SBG provide inertial sensors with innovative Micro-Electrical-Mechanical Systems (MEMS) technology.
Such as Attitude and Heading Reference System (AHRS), Inertial Measurement Unit (IMU) and Inertial Navigation Systems (INS) with embedded GNSS.
Ellipse Micro
The Ellipse 2 Micro Series is a new product range reducing size and cost of high performance inertial sensors for volume projects.
Ellipse 2 Micro Series is available as an IMU, or as an AHRS or INS running an Extended Kalman Filter.
Features high accuracy for volume projects:
·      Industrial Grade – Benefit from a 2-year warranty
·      Cost-effective – Designed for volume projects
·      High Quality IMU – Calibrated in Dynamics and Temperature
·      High Performance – 0.1 degree Roll and Pitch (AHRS & INS models)
·      Light-Weight – 10 grams
·      5 cm Real-time Heave (AHRS & INS models)
·      Connection to external GNSS and Odometer (INS model)
Ellipse 2 Series
These advanced miniature inertial sensors provide the best combination of innovation performance and reliability for price.
The Ellipse series offer outstanding orientation and positioning data in a tiny, light-weight and rugged enclosure.
Incredibly versatile, you can connect your own GPS/GNSS receiver or use the internal one. Connect an odometer, receive differential GPS corrections and more.
Features and Accuracy:
Features:
High quality sensors
GNSS receiver
DGPS corrections
IP 68 enclosure
200 Hz output rate
Accuracy:
0.1  degree real time attitude
Up to 2cm RTK GNSS
5cm auto-adaptive heave (ideal for SBES survey applications)
Ekinox 2 Series
Ekinox 2 Series takes MEMS to the next level.
The ITAR Free Ekinox Series offers cost effective, high-accuracy, robust MEMS at Tactical Grade.
This series is ideal for Multi-Beam survey operations on small inshore vessels.
With new accelerometers and gyroscopes, Ekinox 2 attitude accuracy has been enhanced by a factor of two.
Performance:
Roll, Pitch: Up to 0.02°
GNSS-based Heading: 0.05°
Position: 2 cm (RTK)
Heave: 5 cm (Real-time), 2.5 cm (Delayed)
Aiding equipment: RTK GPS, Odometer, DVL and more.
Apogee Series
Apogee Series is the most accurate line of Inertial Navigation Systems based on the robust and cost-effective MEMS technology.
Apogee sensors are also the smallest and lightest at this level of accuracy.
High Accuracy, cost-effective, compact, the Apogee offers extreme versatility and simplicity as some of its many qualities.
This series is ideal for large vessel survey operations and 3D mobile laser scanning.
Key Features:
HIGH Accuracy Roll & Pitch: 0.008° Real-time / 0.005° Post-processing
Last generation MEMS sensors & Tri-frequency GNSS receiver
GNSS-based Heading, not sensitive to latitude
RTK and Precise Point Positioning (Marinestar, TerraStar and more)
Real-time (5 cm) and Delayed Heave (2cm)
Qinertia Post processing
Qinertia is SBG Systems' in-house post-processing software.
This full-featured software enhances SBG Inertial Navigation Systems performance by post processing inertial data with raw GNSS observables.
Qinertia is very easy to use and ideal for hydrographic survey operations.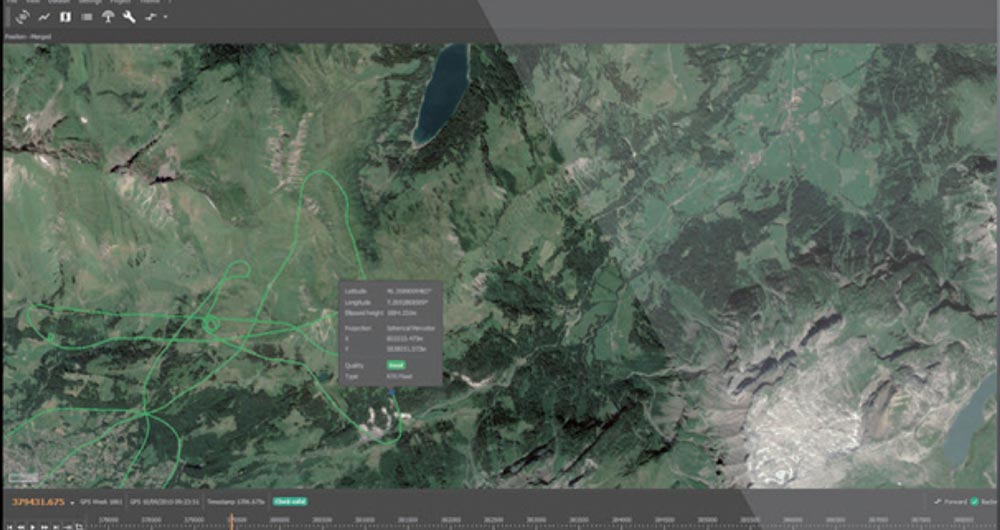 Key Features:
·      Tight Coupling INS/GNSS fusion
·      + 7,000 Base Stations always up-to-date
·      Virtual Base Station
·      Open to all Industry Standards
·      Fastest Processing
·      Modern & Intuitive Interface
·      Survey efficiently, everywhere and easily –  Designed with simplicity to help surveyors get the most of their surveys.
RTK Corrections and Virtual Base Stat
Qinertia gives access to up to date, offline RTK corrections from over 7,000 base stations located in 164 countries.
By creating a virtual base station near your project, the software delivers the highest level of accuracy without having to set up your own base station.
Tight Coupling Post-processing
The advanced tight coupling algorithm has been designed by SBG Systems to deliver the highest accuracy and maximise RTK availability.
Trajectory and orientation are greatly improved by processing inertial data and raw GNSS observables in forward and backward directions, especially in GNSS challenging environments (urban valleys, forests and more).
Advanced Quality Indicators
Thanks to advanced quality control indicators such as Standard Deviation, Separations, GNSS Quality feedback and others, Qinertia provides a full understanding of the survey.
With Qinertia, surveyors can quickly identify and solve any issues such as mechanical installations or sensor alignment to keep the survey on track.
Import/Export
Qinertia has been designed to be easily integrated in your production workflow.
Qinertia supports RINEX industry standard, and for better integration, Septentrio, Novatel, and Trimble native binary format.
A very powerful ASCII export feature allows seamless integration with any third-party software.
SBET and Google Earth are also supported for improved integrated operation.
More Information
For more information on any of the SBG Systems products