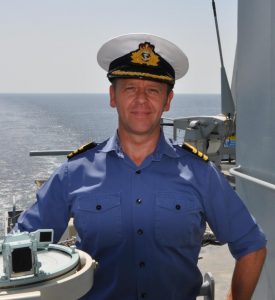 We're delighted to welcome ex Naval Captain and Marine Consultant Jon Holmes to the team at Swathe Services. Jon joins Swathe as our new Business Development Manager.
A New Role Created
The new role was created to maintain and increase our growing product sales and services as well as managing long-term strategic growth. A steady increase in products and services meant our large customer base and support had to be met with additional manpower.
James Williams, Director said: "The calibre of candidates was exceptional. However, Jon's knowledge and experience of Hydrographic Survey, his confidence, presentation manner and overall personality outshone all other candidates. We are all looking forward to working with him."
Innovation in Marine and Hydrography
New Business Development Manager Jon said: "I'm looking forward to adding value to the company and  I am excited to be part of some excellent products and innovation in marine and hydrography."
Jon has had a full naval career as a Hydrographic Surveyor and was made ship's captain of six naval vessels during that time. He left the Navy to work at the University of Plymouth's Hydrographic Academy and then as a Marine Consultant.
Jon is a big fan of the countryside. He, his wife and daughters have horses, an old mare and an Irish Cob. They have chickens and a chocolate lab. He's also into motorbikes but Jon says:"I probably don't qualify anymore to be called a biker."
Captain of The Enterprise
Jon's final role in the navy before he finished his career saw him in charge of a multi-role survey and oceanographic vessel called HMS Enterprise. Jon says: "When people asked what I did, I would be proud to announce that I was the "Captain of the Enterprise", I also quite like Star Trek and motorbikes."